WELCOME!!!
We are a dog and cat boarding kennel. We also accept other small pets for boarding. The runs are cleaned twice daily and bedding and toys are washed if the pet has soiled them. We have no limits on toys and crates that you can bring for your pet. We encourage you to bring anything that makes you feel better about leaving your pet. Please be aware that dogs sometimes act differently when being boarded than when at home. So, it is best to bring bedding that you don't mind might be destroyed.
Our kennel design is a little different than other kennels. Our runs are larger than other kennels.
They come in 3' x 12', 4' x 12', and 6' x 12' sizes. This gives your pets plenty of room to move around. Four foot tall cement block walls topped by two feet of chain link fence separate each run. This prevents unwanted physical contact and cross contamination. They can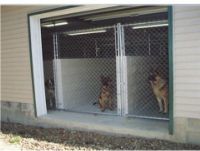 only see the dogs across from them.
We physically take the dogs outside to large 8' x 20' exercise runs for their bathroom breaks.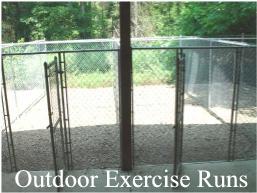 They are closely monitored at all times for aggressive behavior. Taking the dogs out to another area to do their business gives them a chance to run around a little and for us to give them some one-on-one attention.
Our clients are given a Bil-Jac ® biscuit after their morning and evening ritual, along with a "Good Job" and a nose scratch!!
Our clients are kept entertained 24/7 with country music and watching furry creatures running around in the woods.
We have 6 garage doors that are kept up for continuous fresh air on warm days. There is a large whole-house fan that circulates the air every 15 minutes. The kennel is nestled in trees which keeps the kennel cool even on the warmest days. The kennel is heated in the winter.
New! Now available for a small fee, we offer wonderful, comfortable Kuranda beds for your pets to sleep on.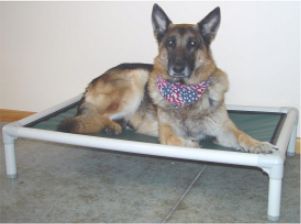 They keep your pet off the ground and are more sanitary than cloth beds. You are more than welcome to bring a blanket or other bedding to lay on the beds.
For an additional fee, you can take advantage of our Deluxe runs! The Deluxe runs are 3' x 5' runs that are indoor and climate controlled. They have a TV for entertainment and a window to view the activity in the office.
Open Sundays and all Holidays. Hours by appointment.


Dogs are taken outside 3 to 4 times a day.


Your pets receive fresh food and water twice a day. Puppies will be fed more often at request.


Vaccinations are required 48 hours prior to boarding. No pet will be accepted without proof of shots.
Listed below are ABKA Brochures that can give you great information in boarding your pet. Click on the link to download the .pdf file. You will need Adobe Reader to view these files. If you don't have Adobe Reader, click the Adobe link and download it for free.